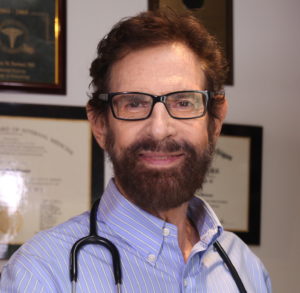 Marvin M. Portner, M.D., is Board Certified in Allergy, Immunology, and Internal Medicine and trained at the University of Michigan and UCLA. As an internal medicine specialist, he diagnoses and treats all adult medical conditions without surgery, but is educated, certified, and experienced in practicing alternative forms of treatment as well. In the late 1970's, Marvin pioneered the integration of the traditional medical practice with holistic, alternative medicine.
Marvin treats the following conditions:
Asthma
Allergies
Sinus issues
Hay fever
Food allergies and/or intolerance (or sensitivities), including gluten
Immune problems with skin, e.g., hives and eczema
Autoimmune diseases
Weight
Blood sugar
Cholesterol
Blood pressure
Stress
Chronic pain (including fibromyalgia)
Some of the alternative modalities Marvin specializes in are as follows:
Reiki (3rd level Reiki Master and teacher since 1982)
Acupuncture
Acupressure
Osteopathic/cranial sacral therapy
The Gokhale Method (for back pain)
Exercise and strength training
Massage
3G Cardio Power Plate
Diet/Weight (through the Ideal Protein Program)
Medical hypnosis (including the Clean Language System)
Biofeedback (using heart-rate variability)
Medical Cannabis
Meditation techniques
Herbs
Marvin is a co-founder of the L.A. Milton Erickson Institute and is a former board member of the Southern California Society for Clinical Hypnosis. He has prescribes medical cannabis, when appropriate, for use in chronic pain, sleep disorders, and stress reduction. Marvin became a Reiki/Master Teacher in 1982, the first medical doctor and eleventh Reiki Master/Teacher initiated in the West. In 1999, he spent time in the Amazon Rainforest studying herbs with John Easterling.
Using his expertise, Marvin views his patients from a whole-person perspective, taking the physical, mental, emotional, and spirit-energy connection into consideration. He spends time with each patient, getting to know them, talking about their health concerns and decisions, and setting goals with them to achieve wellness.
 
Allergy Care
Marvin confirms an allergy diagnosis through allergy testing, conducted by either standard skin testing, or blood for environmental allergies. These evaluations can determine sensitivities to animals, pollen, fungi, dust mites, as well as foods, and other substances. Many people are unaware chronic inflammation and of the long-term health consequences of living with untreated allergies, such as: fatigue or lowered energy, weight gain, decreased mental clarity, and imbalanced immune responses.
Marvin is expert in diagnosing allergies that are subtle in their symptomology yet significant in their impact on an individual's life. He distinguishes between food allergies, which can be measured by antibodies in the blood, and food intolerances, which cannot. Both can be successfully treated. Since each individual is unique, food allergy and sensitivity evaluations can be used to determine which foods are likely to enhance health and result in feeling healthier, having more energy, losing weight, and alleviating other symptoms. Clinical results of allergy treatment show lowered blood sugar levels, lowered cholesterol, and lowered blood pressure.
Marvin trains patients who are interested in participating fully in their own treatment to administer their own allergen immunotherapy (or AIT) at home under the home allergy management program Marvin developed. This kind of care reduces travel costs and the number of doctor visits.
Marvin works with patients as both a primary doctor and as a coach. He returns phone calls and handles his own appointments. He provides concierge service without concierge cost. Personal service is at the forefront of quality care. Fee adjustments meet individual needs. Since each individual is unique, treatment needs and goals determine their treatments and the synthesis of holistic modalities appropriate to them.
To talk to Dr. Portner call him at: (310) 266-3050.
 
Pain Management
In conjunction with evaluating your overall situation, Marvin uses numerous state of the art cost effective pain management tools specifically chosen for your issues.
Among the treatment modalities Dr. Portner for pain are: Lasers, the 3G Cardio Power Plate, the Alpha Stim 100, the Synatptic 3600, crano-sacral treatments, Reiki healing.
The Alpha Stim 100 is small machine that uses ear clips and can be purchased if you find it useful. It also has wands and/or pads for pain relief in other areas of the body. It works using neurotransmitter activation for pain relief. Often with consistent use of this machine, patients can reduce or eliminate their antidepressants and/or anti anxiety medications. It also helps with sleep issues.
The Synaptic 3600 Machine works phenomenally for pain relief. The Synaptic is similar to the Alpha Stim since both work on specific areas of the body as well as having general neurotransmitter effects, but the Synaptic 3600 is not as portable. It takes a person through a range of frequencies that sequentially reduce pain through activation of the neurotransmitters in the area of pain. We have used the Synaptic for 20 years with great results. Within a short period of regular treatments pain reduction can be quite dramatic in reducing or eliminating the need for pain medication as well as psychoactive agents.
The Thermatex heating pad is aninfrared heating pad that reduces inflammation and pain consistently and efficiently. It is available for purchase for your home use.
Accupressure – used with Reiki and osteopathic Crano-Sacral techniques.
Diet/Weight
With obesity a national health issue, it is essential to maintain an optimal body weight. We spent a great deal of time researching and experimenting in this area. Although each individual must find an eating plan and program that ultimately fits their life style and tastes, the Palisades Ideal Weight Loss Program works effectively and quickly to get our clients to their goals. Research shows that being 10% below recommended weight levels is a consistent variable in increasing longevity. Insulin is a major factor in formation of arachidonic acid (a proinflammatory chemical eicosanoid). The Palisades Ideal Weight Loss Program prevents insulin surges with a low calorie, low carb, adequate protein diet that reduces inflammation. We know from our own experiences that it is possible to eat well, and eat anything you love, while at the same time remaining lean and healthy. We tailor our programs to meet your needs.
 
Mind/Body Work
Enhancing the immune system and body health with positive thoughts and mental imagery builds reserves of self-esteem and positive self-regard. When you feel healthy and function at optimal levels, the world looks and feels more aligned and harmonious with self. It is in the very nature of holistic work that the mind and body are seen as one functional unit since it is only through the body that we bring our humanity to the forefront of our existence. By using multiple techniques and modalities we strive to allow maximal integration of all areas of functioning.
Body Work
Marvin is one of the few M.D.'s certified in Level I & II upledger Crano-Sacral and osteopathic body work.
Hypnosis
Hypnosis evokes an altered state of consciousness characterized by heightened suggestibility and receptivity to direction. Eleanor originally trained in hypnosis in 1973 at the University of Chicago with Erika Fromm; she worked with hypnosis through the years using it as appropriate to facilitate depth work as well as to help individuals in their daily functioning. Eleanor often uses conversational hypnosis and clean communication tools to facilitate mindfulness in her clients. Eleanor and Marvin are co-founders of the Los Angeles Erickson Institute and are ASCH Approved Hypnosis Consultants. Eleanor was past-president of the Southern California Society for Clinical Hypnosis from 2011-2103.
Therapy
With the complexity of modern life and its pressures on family lifestyle, new strategies for coordinating relationships become necessary. New skills are necessary in this technological age with its fast pace and dynamic work force. Children and families have unprecedented expectations in all arenas of life. Eleanor has dedicated her life to mastering the skills of communication and consciousness with the intent of being able to guide others to achieve harmony and loving relationships. The environment at Portner Medical Offices exudes the kind of harmonious space possible to achieve, and we teach our clients the skills necessary to live harmoniously with their loved ones as well as in the marketplace.Many people although successful in their life and in their relationships strive for greater gratification and excellence. Eleanor helps creative individuals channel their energy in life enhancing ways for maximal harmony and creative gratification in their life. She also looks at relationships in the business/work setting and helps align with the energies and the direction that one wants to achieve. With Eleanor's gift for listening to the spiritual voice and recognizing patterns and the directions to which they lead, she is able to facilitate and redirect her client's energies through building their awareness so they find fulfillment.
Reiki Master/Teachers & Practitioners
Reiki is a natural pure white light healing energy channeled through an individual who has been initiated into Reiki Healing. Through the years, Reiki has gained increasing credibility and validity. To read some of the scientific documentation on Reiki go to:http://www.reiki.org/reikinews/research.html#3. The Reiki initiation involves a series of four "attunements" which activate and set the energy path in the initiated individual. The path runs through the crown chakra of the individual through their chakra system and through their hands. Whenever a Reiki initiated individual touches anything that is alive, the Reiki energy automatically flows through their hands with no effort of expenditure of energy from them.The difference between Reiki and other healing work is that in Reiki the energy that flows is not dependent on the energy clarity or on the healing ability of the person doing the healing work. In addition, because Reiki is a pure white light energy, and the healer is only a conduit no negative energy can be absorbed by the healer, and no negative energy can be transferred through the healer. In other healing modalities differences often exist in the intensity and in the energy level of the individual doing the healing work. In Reiki the power of the energy transmission varies based only on the level of Reiki to which the healer has been attuned or initiated. In Reiki the healer needs no protection from negative forces or energies and does not need to center and/or to focus meditatively when engaging in healing work in order to keep it pure. Reiki remains a pure energy regardless of the consciousness, physical, emotional, or mental state of the healer.The Reiki initiation process is very exact and specific; a true Reiki Master follows a defined formula that remains invariable. As in any true initiation process, the Reiki Master is only important for his/her professional adherence to the integrity of the system, but is totally irrelevant as an individual personality in the process. Each level of Reiki power is complete in itself so that no other attunement or process is required once the process of initiation is completed at a given Reiki level of power. In addition, the energy path is set for life and remains active whenever the individual with Reiki touches a living being. Three levels of Reiki are available which honor the integrity of the pure Reiki teaching: first degree Reiki activates the healing energy so that it flows when anything is physically touched; second degree Reiki activates the healing energy so that it flows when certain symbols are activated by the Reiki practitioner and can activate healing at a distance without physically being present; second degree Reiki heightens the power of the Reiki energy tenfold; third degree Reiki activates the healing energy that sets the Reiki pathways in another individual; thus, third degree Reiki allows the Reiki Master to initiate others into Reiki.As Reiki Alliance Masters/Teachers we teach all levels of Reiki according to the Usui system passed through Mrs. Takata. We initiate individuals privately as well as in class settings. The fees are set by the Reiki Alliance: $200 for first degree, $500 for second degree, Master level is individually arranged.
Release Technique – Sedona Method – helps release and balance emotions.

To Make an Appointment or find out more CALL: (310) 266-3050 or Text: (310) 266-3050.